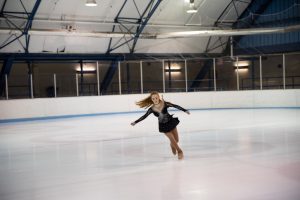 Do you need a cool way to work out over the winter? Ice skating has many health and wellness benefits, plus it's lots of fun! Learn about how ice skating can help you reach your fitness goals and find some tips on getting started.
Joint and muscle health
Skating works nearly every muscle group in the body, and gliding requires synchronized movement of the legs, which is important for joint flexibility. It also builds up the leg and abdominal muscles. Like any workout, skating is great for cardiovascular health – it gets blood pumping and the heart rate up. And it's a lot of fun to glide around the ice; unlike with other types of exercise, you probably won't even remember that you're working out!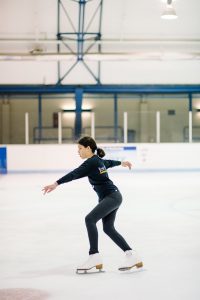 Improved balance, coordination and weight management
Strengthening your muscles and improving your joint health leads to better balance. So does trying to stay standing on the ice. By learning to engage your muscles to stay standing, you're not only toning them, but also improving your control over your body and your endurance.
According to Harvard Medical School, ice skating will burn up to 200 calories per hour, making it a great way to lose or maintain weight when combined with a healthy diet.
Stress management
Working out in general is a great way to relieve stress because physical activity releases endorphins in the brain. Learning to ice skate also boosts self-confidence and hones focus as you learn the many new moves skating offers, like crossovers, going backwards and spinning. Bringing friends to the rink or meeting new people during lessons is also a great way to relax and unwind after a long week at work.
Equipment needed
A properly fitted pair of skates is a must. If you're not sure whether you'll stick with skating, rental skates are a good choice. Rental skates are high quality, and you'll be able to try a variety of sizes. Aside from skates, make sure you bring a pair of gloves to protect your hands during falls, dress in warm clothing you can move in and bring pads and a helmet if they make you feel more comfortable.
Where to start
A basic skating class is the safest bet if you've never been on the ice before or haven't skated since childhood. These classes teach important skills like how to stop and how to fall! Starting out by learning the right way is a lot more fun than struggling, clutching the rink wall and possibly getting hurt. View the activities guide for information on current ice arena programs and lessons!
Just like with any exercise program, be sure to check with your doctor before you begin!
_____________________
Sources
Healthline Editorial Team. Peggy Pletcher, ed. "It's Never Too Late: Learn How To Ice Skate." Healthline. June 23, 2016. Accessed September 12, 2017.
Steiner, M. Kathryn. "Fitness Benefits of Ice Skating." Live in Motion. New England Baptist Hospital blogs, January 23, 2017. Accessed September 12, 2017.
"Top Ten Benefits of Ice Skating." Health Fitness Revolution. April 23, 2015. Accessed September 12, 2017.
Article From: https://www.playkettering.org/health-benefits-ice-skating/
About Little Lemon Sports (Learn to Skate Programs and Spring/Summer Sports Camps)
Welcome to Little Lemons Sports Inc! We are a group of Calgary based, experienced sports and skating coaches, but most importantly passionate instructors, excited to share the sports that we love with your little ones. We believe that a child's first experiences with sports should be productive, but most of all fun and exciting. At Little Lemons Sports we encourage all types of physical activity- running, jumping, yoga, balancing, dancing, skating, skipping, as well as working on other skills to promote agility, control and balance.